Blog
---
Onkel Reje - Best Danish TV show for children 2022
08 apr -22, 11.13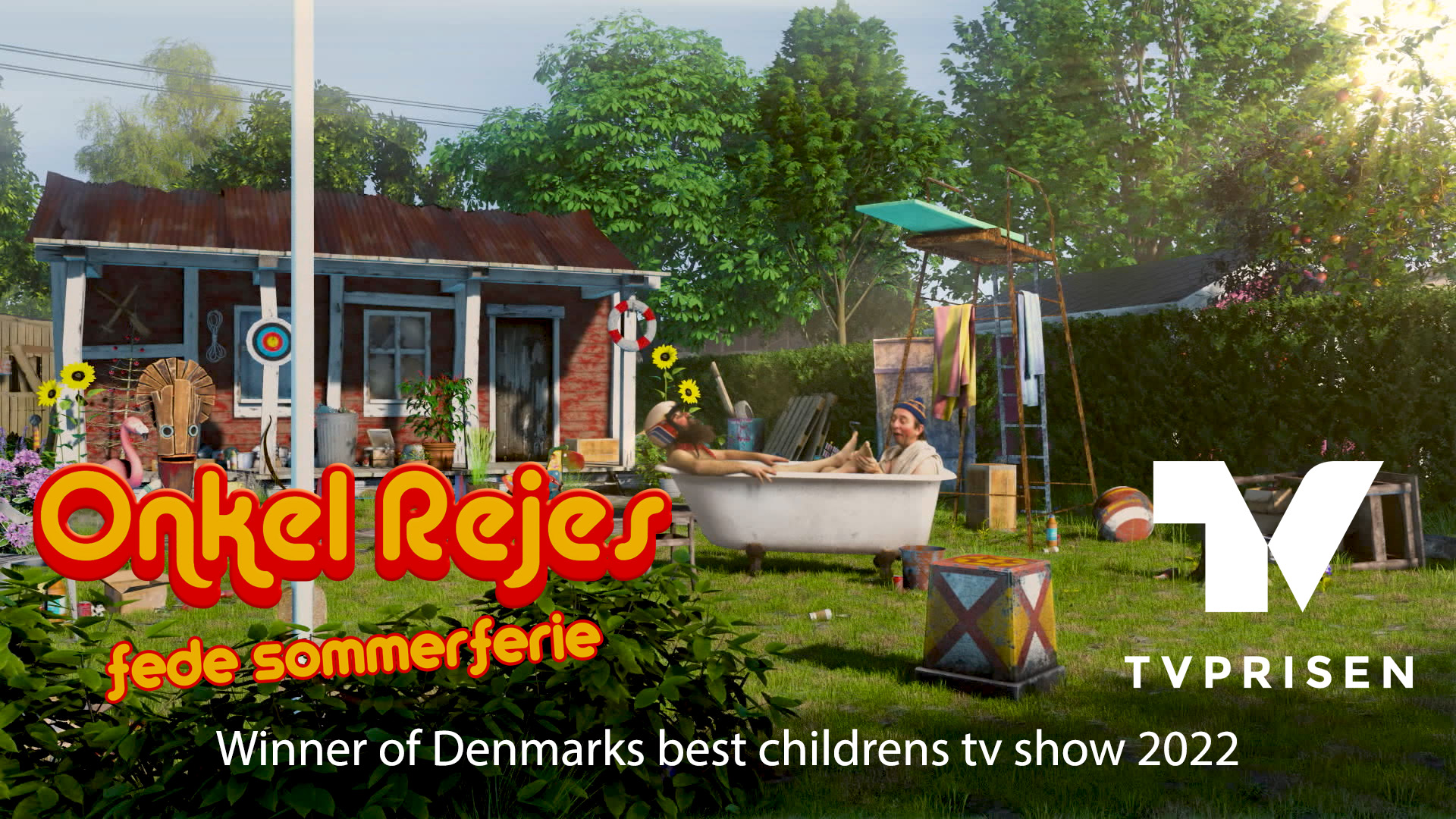 On the 26 of march we won Denmarks best childrens tv show at TV prisen (The Danish TV Awards) for our show "Onkel Rejes fede sommerferie". Well deserved, if you ask me ;)

It felt Great!

We had a good time at the award show. Mads, Jesper, Brian and me were there to accept it.
I had no expectation that we would win this time either, since we were up against so many other good productions.
In the past I've told myself it dosn't mean anything, but when it happens it feels very special.

Looking forward to start production of the next season later this year.

The jury's motivation was...
"It's old school and super modern at the same time. A crazy, unpretentious universe wich feels almost infinite. Outside the box, funny and intelligently goofy. It's uniqe danish childrens tv."

"Det er på en gang oldschool og helt vildt moderne. Et vanvittigt, uprætentiøst univers, som føles nærmest uendeligt. Skævt, sjovt og intelligent fjollet. Det er unikt dansk børnefjernsyn."


---
Onkel Reje - Mysteriet
11 mar -22, 11.33
I got the opportunity to direct a musicvideo for Onkel Rejes Store Sommerferie. It started out as an idea where we would use motioncapture to make the dancing skeletons. In the end we setteled for a more simple approach for the musicvideo.

The set design is heavily inspired from silent movie era classics like The Cabinet of Dr. Caligari, where I played around with forced perspective.

This is also the first time I used Blenders realtime renderer Eevee in production for the stage at the end.

Switching from Element 3D to Eevee was such a great upgrade to the visual fidelity and production value of the show. Next logical step for us now is to switch over to Unreal Engine.

Good times to be alive!

---
Onkel Rejes Fede Sommerferie - Premiere
23 jun -21, 22.17
After 7 months of hard work we are about to launch the new season of Onkel Reje on the 25th of june.
This time Onkel Reje and his gang are hanging out in their summerhouses trying their hardest to do nothing, when Onkel Reje discovers that he's pregnant.
As usual my role has been Production design, VFX Supervisor, Compositing and animation.
Showreel and more info about this project when I've wraped it up. Three episodes to go...
External link to Onkel Rejes Fede Sommerferie at dr.dk
---
God mad.
11 dec -19, 10.09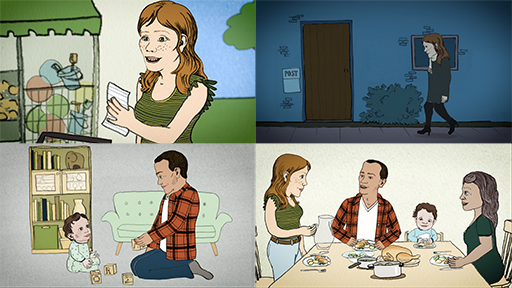 Four more educational films for the Danish Health Authority.
Another great collaboration with Else Guldager, John Andersen and Camilla Brandi Anshøj at God barndom.
Part of a big government funded project to fight a growing problem with child obesity in Denmark.
Director and animation: Fredrik Lindgren.
Script and co-director: Susan Stølsvig Skovmand.
Illustrations: Kamilla Wichmann.
Music and sound: Pelle Skovmand.
Voice actors: Mikkel Trier Rygaard and Rosa Sand Michelsen.
---
Barnets 1000 første dage.
02 aug -19, 13.46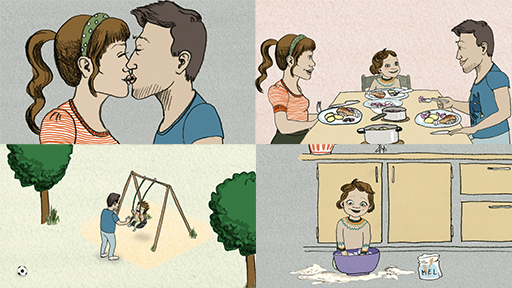 Another great collaboration with Else Guldager, John Andersen and Camilla Brandi Anshøj at God barndom.
The movies is a part of some educational material God Barndom is developing for the expansion of the Sundhedsplejerske program.
I've directed and animated 3 short educational films, to suplement the material God barndom is developing for the Danish Helth Authority.
Director and animation: Fredrik Lindgren.
Script and co-director: Susan Stølsvig Skovmand.
Illustrations: Kamilla Wichmann.
Music and sound: Pelle Skovmand.
Voice actors: Mikkel Trier Rygaard and Rosa Sand Michelsen.
---
Aniara - Digital set extensions.
18 may -19, 14.32
Just before our 2nd child came in April I had the absolute plessure of working on the film adaptation of Harry Martinsons space poem Aniara. I've made set extentions for 15 shots that had to be reframed to a wider format.
Great to work with DOP Sophie Winqwist again and the very talented crew that have made this wonderful movie.
Looking forward to see it on the big screen come fall.
---
Showreel - Onkel Rejes Heavyband.
24 apr -19, 10.23
It's damn hard to make a showreel for a whole season. 12 episodes of 15 minutes, cut down to three minutes. But here is a try...
VFX supervisor, Set design, Animation and compositing.
---
Onkel Rejes Heavyband!
17 nov -18, 11.08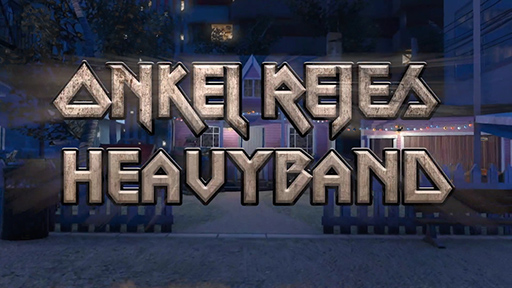 The new Onkel Reje Show premieres on Ramasjang in January 2019.
This time we explore the world of Heavy Metal. The setting is a big city, where Reje, Brille and a new side kick Krølle have a Heavy band together and is trying to win a Heavy Melodi Grand Prix.
Filled with childish goodies, car chases, fun new characters and satire for all ages.
More to come about this when the time is right :)
---
Lene og Lillebror
28 apr -18, 09.42
Back at
Teater Vestvolden
to help out with 2 Shorts for their new childrens play Lene og Lillebror that will tour Denmark in their Theater bus.
The first film is the introduction of Lillebrors trough a recreation of the style of his tv-show from Lenes childhood. Lillebror discovers there's a world outside his tv-universe and comes out of the tv and on to stage.
Music by Mathias Nielsen, and puppeteer is Ernesto Piga Carbone.
The second film was created together with illustrator Chapper. I've created a short sequence when Lillebror and Lene go back in to the television to get Lillebrors piano. They are transformed into a Cirkeline style animation.
---
Onkel Reje Season 4!
3 jul -16, 10.56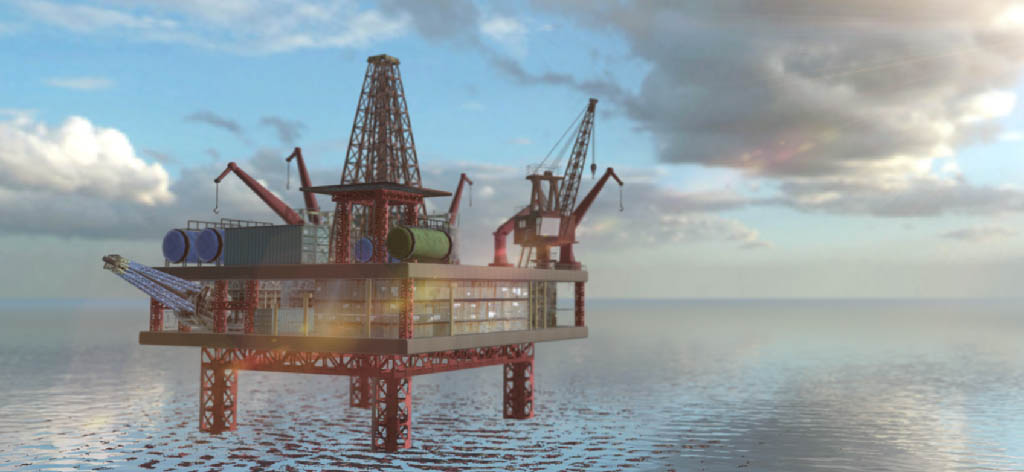 After a two year break we finally got everything in place for a fourth new season of Onkel Reje for DR Ramasjang.
We are in early start-up for our new adventure on the high seas surrounding the island of Ramasjang.
Premiere in february 2017!
---
Det er helt sort! - Danmarks Naturfredningsforening
1 jul -16, 10.03
Just finished another campaign video for
Danmarks Naturfredningsforening
(The Danish Society for Nature Conservation).
The film is part of a campaign about black plastic that can't be recycled due lack of technology in the recycling plants.
I did the animation, the 2.5D look and some additional graphics.
Campaign and graphics by
Gorm
and production by my friends at
Produced by
.
---
Folkeklubben - Nælden og Egen
17 jun -16, 23.12
Fun little job. Music video for Folkeklubbens new single Nælden og Egen, that's featured in the DR1-Documentary "En syg forskel".
Rikke Villadsen phoned me and ask if I could help her with this simple piece of art and we just did it over the weekend :)
---
Fly Trap - by Sparrow Dance
21 apr -16, 10.23
For some time now I've been working with the aerial dance show Fly Trap.
It premiered and played for a full audience in the beginning of April at Teaterøen in Copenhagen.
This is the trailer and shows some early work as backgrounds for the performers. I'm thinking about how to present a more accurate picture of my work, but...
Well, anyhoo... This wonderful project by the artistic director and choreographer Esther Wrobel from
Sparrow Dance
, has been a great collaboration with Sam Moore on the set design and animation.
The two amazingly talented performers are Rebecca Seward and Kajsa Bohlin.
Flytrap is a family performance made for children from the age of 6 to 9. The show creates a magical and surreal universe of aerial dance in combination with video animations.
Fly Trap is laid out as a form of rescue game and adventure that the two heroines of the show will overcome together.
A performance full of flying, dance, acrobatics and spacial illusions. Reminds both adults and children that our mind has special power to change our reality and how we perceive it.
---
Dit første barn - God Barndom
14 feb -16, 19.38
In four days we go in the studio to record the actors voices for the two short animated films me and Susan Stølsvig Skovmand are making for God Barndoms new educational material for birth- and parental courses for danish towns (kommuner).
This time we focus more on the second half of the family's first year, and the fathers 3 month long parental leave.
God barndom is Else Guldager from sundhedsplejersken.dk og John Andersen from JAForum and we hope to fund four more films to also cover the the period from 6 month pregnant to 6 month old in this universe. More on this later...
---
Taynikma - Success at Teater Vestvolden
9 dec -15, 14.49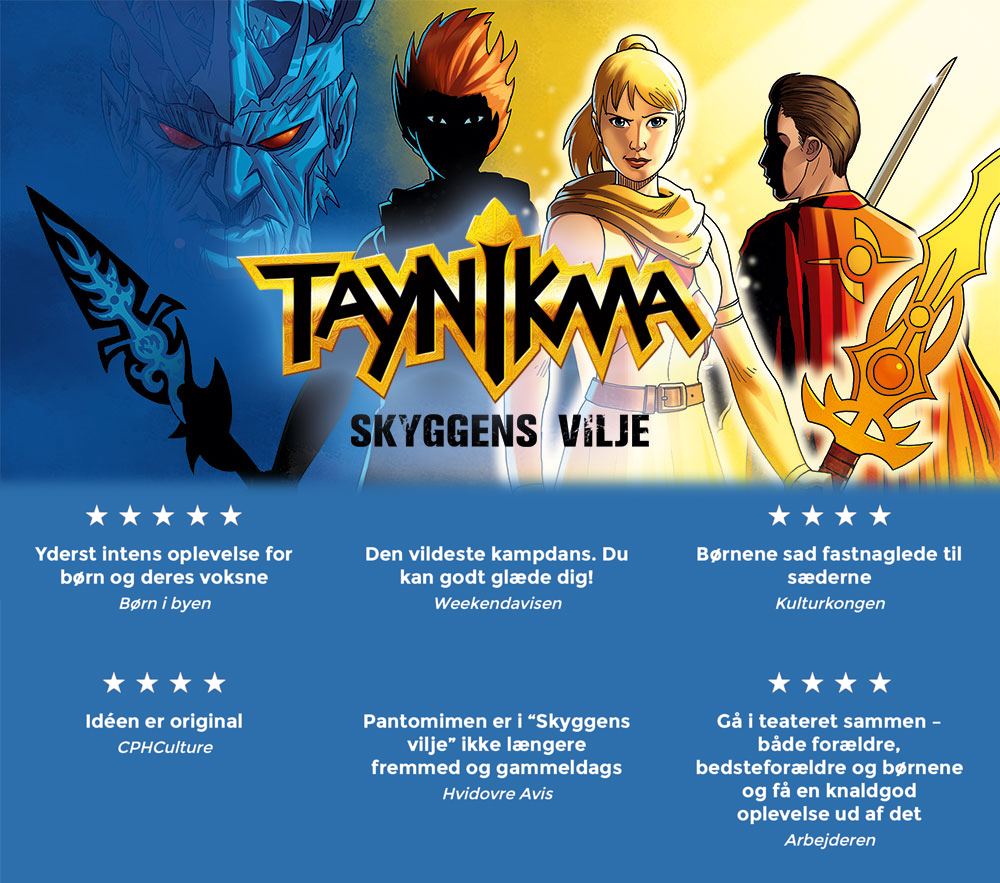 My wish to work more with stage performence has payed off. I've had the privilage of workin for three months, animating the entire set piece for Teater Vestvoldens modern pantomime Taynikma - Skyggens vilja.
The show is 50 minutes long and for the entire length of it, the background is alive and helps drive the story in a very interactive way.
Taynikma is a well known manga series in denmark by Jan Kjær and Manfred P. Mann. It's been translated to nearly 20 other languages and with this project, and thanks to Stephan Folmer and Teater Vestvolden, for the first time to a stage play.
Manfred wrote a new uniqe story for their universe, with a new female lead and her struggle to free her twin. Jan Kjær did the fantastic drawings that I used for the backgrounds.
The entire set is animation on three screens mesuring 7x3 meters in all. It's made in a way so the dancers can pass through it and we seemlesly switch to a filmed performance allowing costume change and an over the top death scene. There's 21 animated scenes in 17 different enviroments that tell a very detailed story about the main characters travels. There's also animated characters, the magic of the Taynikma, a beautiful timelaps from night til dawn traveling through a forrest, and of course, the destruction of the shadow king's castle... And much more.
The story demanded a a twin sister of the main character. The solution we chose was to shoot Jennifer Wagstaffe entire performence of her twin sister in a green-screen that we buildt at Teater Vestvolden. Her entire performance on the screen is over 20 minutes, and we had to have the possibility to go back and revise her performence during rehearsals to match where she looks and how her interaction with the other dancers worked.
I really hope there's more projects like this on the horizon. I'm currently working on another stage animation with
Sparrow Dance
. More on that later...
---
The Red & the Hidden Language - Music video
29 sep -15, 21.34
'Spirited away' is the first single to The Red & the Hidden Language coming album (release date, October 2015).
Directed by me. Concept & execution by me.
Shot in a green screen that I buildt in my work space and composited in AE.
The musicvideo is the first part of a three piece concept for marketing, centering around the face logo by Åskar Lilja.
The second piece is an app for Android and iOS where you can "buy the album on vinyl".
The third piece is press photos.
I will tell more on this project in he future...
---
Barndommens land - 4 animated films.
25 jun -15, 20.27
I was asked to make 4 short animated films, that should inspire partisipants of a parental class/course, to open up and start talking about what they are going through.
The parental course is made by Else Guldager at Sundhedsplejersken.dk in collaboration with Jon Andersen at Udviklingsforum for Rinkøbing/Skjerns kommune. They asked me to make four funny films where each one should center around a specific time in an expecting couples life before and after the baby is born.
My pitch was essentially to focus equally on both parents in a positive way and letting the father take parrental leave in the last film.
I asked Susan Stølsvig Skovmand to write the script around a loose idea of a sitcom, but with a much slower pace. The two main charecters were designed for the book and film by Camilla before I got involved.
All characters are played by Brian Lykke and Christine Exner and they were directed by both me and Susan in the recording studio before I took the recordings home and made the films.
I wanted the theeme song to reference back to the music the parents grew up with so I asked Jeppe Højgaard to composed a theme song with clarinett and acoustic guitar to get kind of a nordic 70's feel.
Another great project with great people.
---
Taynikma - Skyggens vilje
23 feb -15, 21.46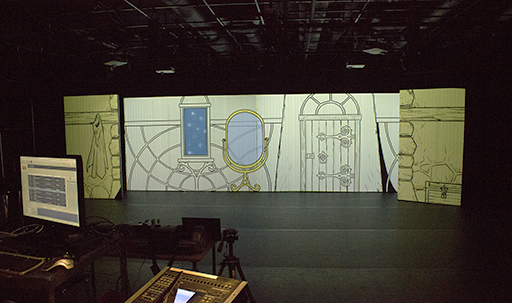 'Taynikma - Skyggens vilje' is a modern pantomime/dance performence produced by and performed later this year at Teater Vestvolden in Hvidovre. There's three weeks left of rehearsals and everything is comming together.
I have, once again, the pleasure of working with animation and real people as the dancers interact with the animated background. One of the characters is a shadow that only exist on the screen and has been performed and filmed in a green-screen.
---
New Onkel Reje music video - Jeg kender Julemanden!
11 dec -14, 00.31
Me and Mads did a christmas video for Onkel Rejes christmas hit 'Jeg kender julemanden!'
Rock & Roll style with our own greenscreen in Made in Valbys office, Canon 5D, 2 lamps plus daylight from the window.
It was fun! Just like we've done it so many times in the past. I'm very glad for all the fun work and hard knowledge I've got from the whole Onkel Reje project.
---
MRSA: Det er ikke grisen, men produktionen der er syg!
10 dec -14, 22.13
I've animated this short info piece about MRSA for Danmarks Naturfredningsforening together with Produced by!
I don't know who did the illustrations and design yet but I'll update this post when I find out :)
---
Onkel Rejes Store Piratshow - Premiere
24 apr -14, 17.56
Premiere tomorrow. I'm so excited to meet the response this time. It feels like a giant leap in production value from the earlier seasons with 'Brevkassen'. I hope that we get an even bigger audience this time. It's still for 3 to 7 year olds and their parents but this feels like a much more streamlined show. Still uniqe and original, with Onkel Rejes politcal incorrect undertone in the center.
This music video is for the end credits.
We've shot 12 episodes with a different child in each, and every episode is a 22 minute long treasure hunt in the Caribbeans with Onkel Reje, the child and Brille. On the way they meet a bunch of funny and a bit scary characters, the dreaded twin pirates Alex & Brian, King Neptun, the giant crab Ronaldo, Onkel Rejes old school teacher the Cannibal, and many more.
We are halfway through post production by now. 6 episodes left to do by mid-june... It feels like I've made a pretty stable workflow where we do one episode per week. Each episode is about 17 minutes of exclusive green screen content. We could do with some automation at times. Going to look into scripting and building tools when I find the time.
The page at Ramasjang is up and running.
http://www.dr.dk/Ramasjang/Onkel_Reje/forside.htm
---
Onkel Rejes Store Piratshow! - on set.
16 feb -14, 21.41
We have finished the first week of shooting and there's two left.
This is a teaser for the facebook fan page. We did it with an iPhone and quickly thru AE and posted later the same evening.
Be sure to expect much more production value in the upcomming show.
---
Onkel Rejes Store Piratshow! - pre production.
8 jan -14, 11.13
So we are doing a new show with Onkel Reje.
It's going to be a pirate themed adventure show where in every episode, a new kid joins Onkel Reje, to hunt for a treasure somewhere in the Caribbeans.
I'm in the middle of building and designing the sets for the show.
Here is a sneak preview of where I'm so far. We start shooting in february.
---
Onkel Reje - Finished with seven new episodes.
18 jul -13, 23.39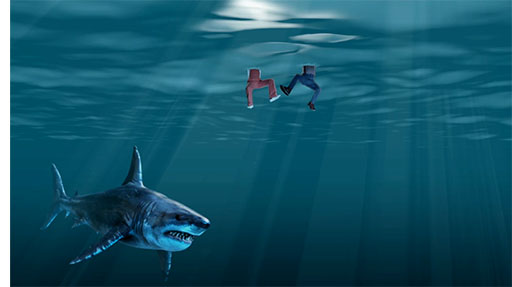 Three months later and I've just sent the last render to soundmix and colorgrade.
We've made 7 new episodes of Onkel Reje and Børnenes brevkasse for
Ramasjang
.
This time Onkel Reje and Brille goes to Mount Everest, the Arizona desert, a mystical forrest, the ocean, Holland, and meets a superhero in the Big City.
More to come after the next word: Vacation!
---
Premiere and Party!
11 mar -13, 13.21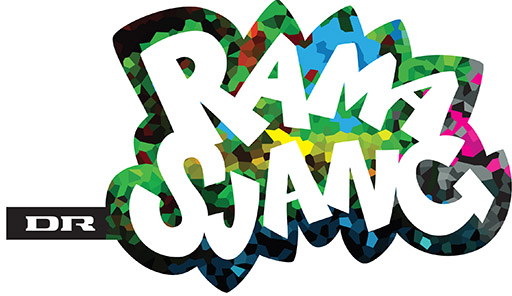 Friday night there was a reception for Ramasjang and the new childrens channel for older kids, Ultra.
The most memorable moment was when Jakob Stegelmann from Troldspejlet came and wanted to shake our hands and congratulated me and Mads on a fantastic program. He was really happy for Onkel Reje and told us that he could see a nordic southpark like potential in us :)
Later this week I'm going to Lowe Friends to talk about some new freelance work while we're waiting to start up the production of the next season with Onkel Reje and his best buddy Brille.
---
Hvis bare...
03 mar -13, 21.17
Yesterday there was the official premiere of Hvis bare... at Anomone teatret. It looks great and we were a proud bunch that had invited our friends and family to see the play. After two intense month of preparations.
You can buy tickets at
teaterhund.dk
. You can see it during march at Anemoneteatret in Copenhagen and after the summer it will tour denmark during the fall.
Tomorrow Onkel Reje makes his debut on Ramasjang and I'm looking forward to see how the 3-7 year olds of Denmark greets him...
---
Dyret won Robert for best short fiction/animation
01 mar -13, 10.48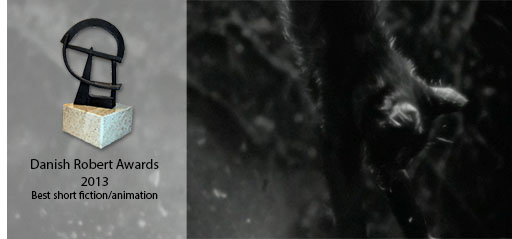 I did 27 fx shots in 2010 for Malene Choi's short film "Dyret", and yesterday she and the producer Jonas Bagger at Zentropa recieved a Robert award for best short - fiction/animation at at the award show.
Huge congratulations for all the hard work and lots of props to everyone who worked with the movie.
Link to
Dyret on Vimeo
.
Link to
Dyret at imdb
.
---
New facilities - finished (sort of)
21 jan -13, 20.37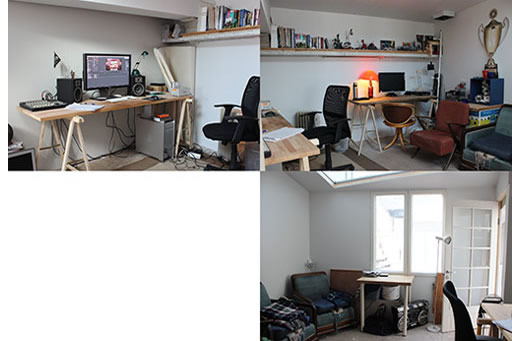 Built and ready for work. There will be another couple of month before we start with next step in the Onkel Reje saga, so there's plenty of time to furnish and set up the equpment. Meanwhile I'm just off to Refshæleøen og
Asterions hus
where rehersals and set design will be for Hvis bare...
We've also started to get feedback from DR on Onkel Reje and it seams to be very well received by those who've seen it over there. It premieres on march 4th on the first day of the new Ramasjang.
---
2013
09 jan -13, 22.18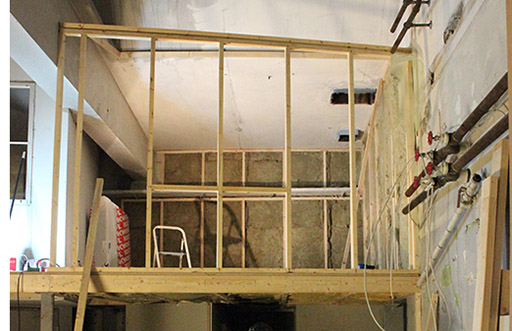 Kicks off 2013 with a new office at Prags Boulevard 43. Building it with my friend Johan and it's ready berfore end of Januari.
I'm currently working with the set animations for "Hvis bare..." with
Teater Hund
. Premiere at
Anemone teatret
on the 27th of Februari
On New Years eve there was a sneak premiere of "Onkel Reje og Børnenes brevkasse" on the Ramasjang new years show.
And the really great news is that we are doing another race with Onkel Reje this Spring. The first 8 episodes have premiere in March on
Ramasjang
---
Jenny Wilson - Lost reels: Bad Waters
23 nov -12, 02.43
Gold Medal Recordings/
Playground music.
Cast: Jenny Wilson
Director: Sophie Winqvist, Jacob Bitsch
Director of Photography: Sophie Winqvist
Producer: Thomas Yong
Production Company: Shouting Cow Productions
Production Design: Elin Maria Johansson
Editors: Esra Geelmuyden Pertan, Marlene Billie Andreasen
Special Effects: Christian Schandorf, Johannes Sverrisson, Søren Hvam, Nordic Effects
Colorist: Sandra Klass
VFX: Fredrik Lindgren
Full Credits: See info on
Youtube
---
Børnenes brevkasse - DR Ramasjang
16 okt -12, 09.03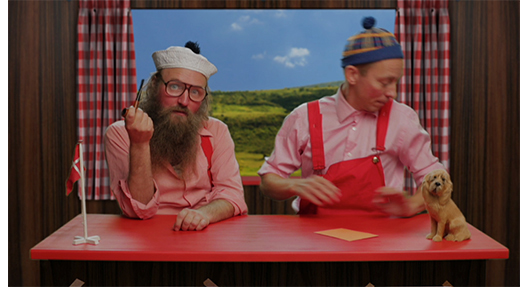 Me and Mads G are working on a comedy show for children in the age between 3 and seven years old.
Onkel Reje and Brille answer letters from children,watches music videos and travels around the world meeting funny people. Lots of fun and lots and lots of special effects.
Mads is writing script and music and plays Onkel Reje. We share the directors chair and I handle the post production. It's produced by Made in Valby for DR Ramasjang.
The show is set to air in december 2012
---
Cinema dell Arte - Prinsessen og frøen
5 aug -12, 23.06
Live 3D animated theatre with Unity 3D and Optitrack Arena. I must say it was a huge success!
5 of 6 hearts in politiken
As head of Motion Capture, my job was to get a stable motion capture with minimum 3 actors at the same time. Scence it was for a live performance, it had to work rocksolid for an hour, three times a day. I managed to calibrate our 24 cameras to motion track 4 persons with 38 point skeleton relativley stable. So we were able to perform with all four actors simultaneously in some scenes.
The biggest problem I find with the Optitrack system is it's limitation to only capture two actors simultaneously with optimised performance, and the limited way to differentiate the actors dots on the suits, so Arena can identify who is who in the capture area.
This was a graduation project at the Danish Film School for the animation director Petter Madegård. But there are great things in the works, so you can look forward to see more from us in the near future.
Cinema dell Arte
---
Ramasjang - Elefantvask
15 jul -12, 10.13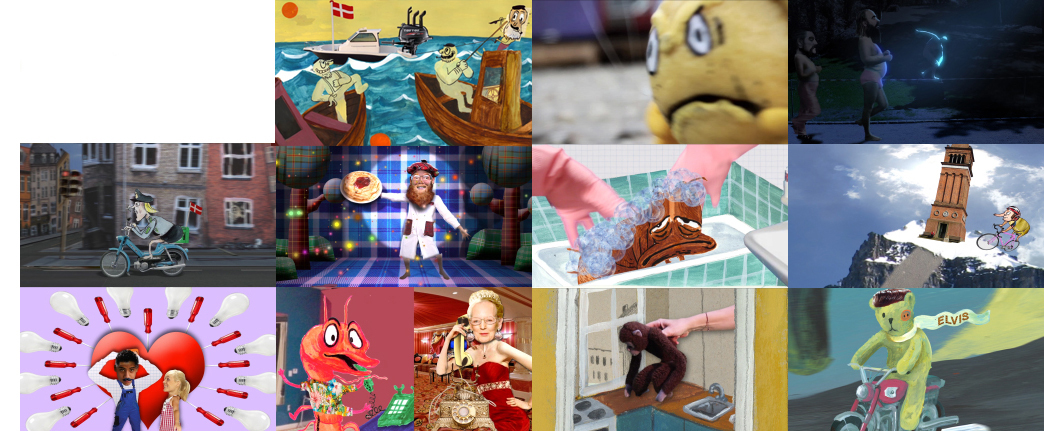 This is 11 animated short films (about a minute each) that's part of an upcomming program on Ramasjang.
The program is going to be called Elefantvaskeriet and is produced by Made in Valby with Kalle Bjerkø as the director. Premiere 2013.
Mads Geertsen as the writer and director. Rikke Villadsen as illustrator. Me as animator and editor. More about this when I can show more :)
---
Teater Hund - Animation
23 may -12, 21.56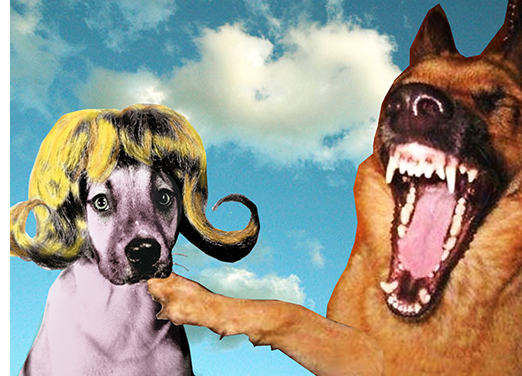 Here at the end of may, I'm about to start on a new cool project.
I'm working together with set designer Jacob Langaa-Sennek on making an animated and interactive scenography that is entirely projected from a computer. It's going to be a childrens play about war, peace and currage.
At the end of this may, we start with 3 weeks of experimenting that ends with a one week workshop with the director Per Linderoth, writer Robert Reinhold, Jacob, me, and the actors Jens Andersen og Bo Carlsson.
The premiere is set to spring 2013.
Hvis bare at teater hund.
.
---
Dansk byggeri - CO2 Neutral år 2050
31 jan -12, 13.43
Corporate movie for Dansk Byggeri. Entirely made within After effects.
DSP
.
---
Sigma Estimates - Product video
01 dec -11, 15.18
A presentation of a plug-in to Autodesks Revit or Bentley i-model.
It's designed, and mainly used for for one-on-one presentations on Tablets out on the floor at trade fairs.
sigma estimates
dsp
---
Klar til barn - Dina og Simons nye verden
30 sep -11, 11.01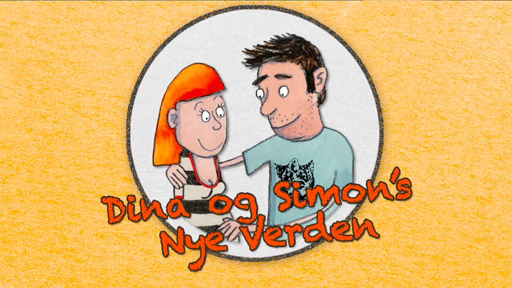 Just finnished 4 animated short films for the Danish
Servicestyrelsen
. They are a part of a new education program for "soon to be parents" called
"Klar til barn"
.
I'm the director and animator. I also did a lot of hand drawn illustrations, but all the characters were designed by
Kammilla Wichmann
.
Did it in 10 days. All I got to start with was the unedited recordings of the actors, and the three characters for the family, and a very tight deadline. so I storyboarded the 4 films, did animatics , Animated, Illustrated and finally did the sound.
I wish I've had more time to go in to details with the characters facial expressions and body movement, but the project became more of an exercise in speed animation and telling the story with as little as possible. Very fun and very demanding. Couldn't have done it without loving support from my very patient and understanding woman :)
and of course:
sundhedsplejersken.dk
dsp
---
Character animation, Kræftens bekæmpelse
12 aug -11, 17.50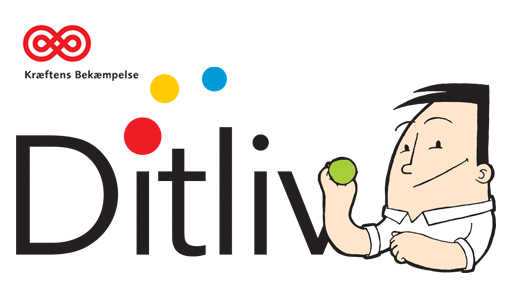 Today Kræftens bekæmpelse launched a new site with information for newly diagnosed cancer patients.
Ditliv.dk
.
I've animated a 6 minute interactive movie where the mascot Ditliv talks about four main themes on the site.
Watch it here
.
8 short films with After effects and programmed an interactive flash interface
Worked with
budskabskompagniet.
, and
sepia
.
---
Fatherhood - best way to spend the summer
23 jun -11, 23.25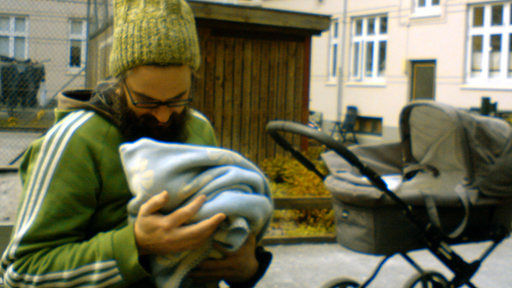 On the 19th of april my lovely woman Helena gave birth to our first daughter, Isis. It's been a soft summer with not so much work as usualy. I've made some short one or two day gigs to keep me floating.
Funny project comming up in july...
---
Animation showreel 2011
4 jun -11, 09.37
I've always loved animation. This is a collection of examples from the past years and up until now.
Program used are After effects, photoshop, illustrator, flash, cinema4d and probably something else too :)
---
DSP Filmbureau
3 may -11, 14.58
Great new adventures! I've started to work more and more with motion graphics during 2011. I've started to work with Copenhagen based film company,
DSP Filmbureau
, doing commercials and information film.
Here you can see a spot for
bownty!
and the links below is to some of my other work on DSPs site
Bownty!
DSP
Mobil hjulskift
Multiprotect
---
Hello!earth - Dance! You can't stop the revolution.
6 mar -11, 22.37
Documentation from Barcelona is finished :)
Hello!earth
website
---
2011, The year of Nuke
12 jan - 11, 14.06
I've gotten a chance to try out NukeX by the Foundry and this is my first go. It's a HD still Photo from the Internet that I've made into a - Day to Night - 3D Matte painting Scene with a camera move inside Nuke.
Then, just to try the workflow, I exported the scene into Cinema 4D and added a little animation of a space bus with volumetric light and rendered out a multipass EXR back to Nuke. Then I used ".chan" to move the new lights and old camera back into Nuke for final composite. and it all worked!
Not a perfect comp, but the hours spent has been focused on learning the program and not making a hole lot of nitty-gritt on the short clip :)
---
SHOWREEL 2010
30 dec -10, 23.04
This is my showreel for things I've done in 2010.
If you want to see my earlier work and get a taste of where I'm comming from, I recomend browsing the site or watch my older
showreel on studiosapiens Vimeo channel
.
2010 showreel contains clips from:
* Dyret
* Last hope for: Mission Doom
* The rite of Saturn
* Ond magi - Tidløs knold
* Guldgruppen - Hvor vi kommer fra
* Onkel Rejes sang
* and more...
---
Virtual sets
29 dec -10, 22.32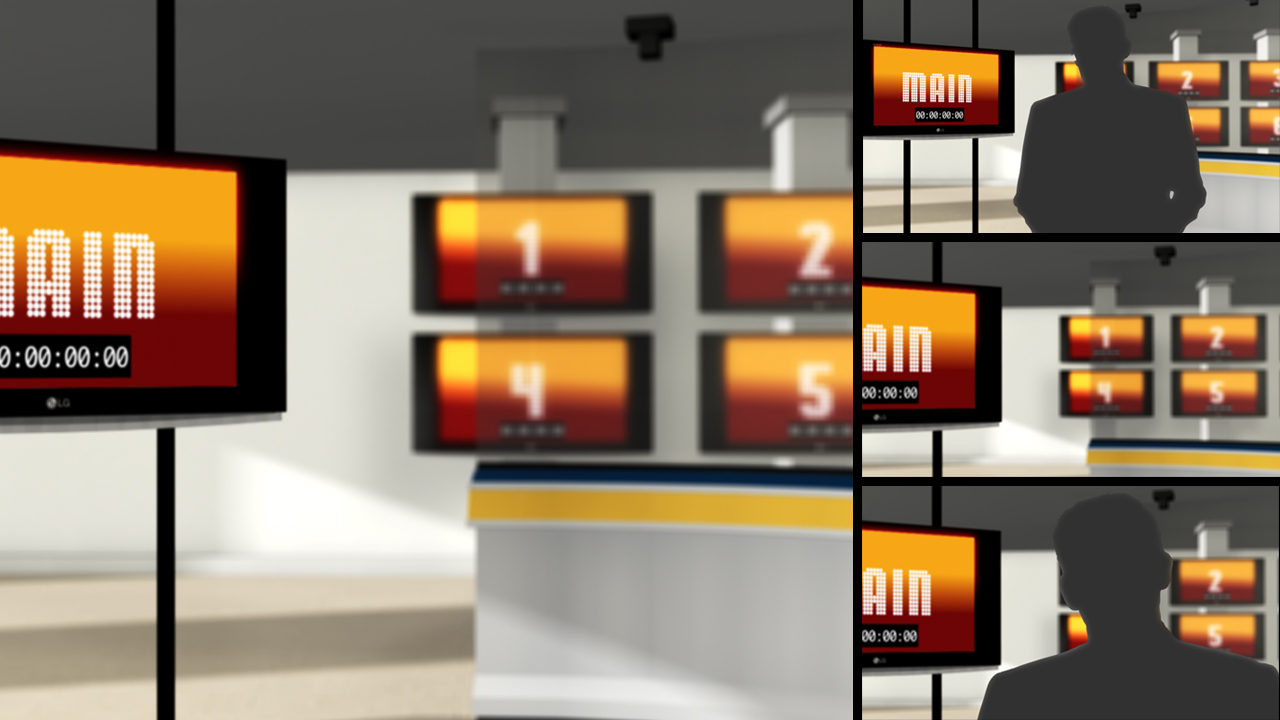 On a recent job I got in contact with the concept of virtual sets. So I started playing around in Cinema 4D to see what I could come up with. The choise of blue and yellow comes from the company colors of the client in question.
I made this set to a fully customisable After Effects project with prerendered background in three layers of depth, and a virtual camera for maximum framing possibility and adjustible depth of field.
All the screens are in seperate comps and you can change the colors of the blue and yellow stripes directly in After Effects.
The siluette shapes of the man is comps where you can put your own keyed material in and it automaticly updates in the final render comp. There is a preset for lightwraping included for better result in blending the keyed material with the Virtual set.
Currently I'm looking in to selling this kind of background projects. Must look for places on-line where you can upload and charge for downloading.
---
Last hope for: Mission Doom
20 dec -10, 18.38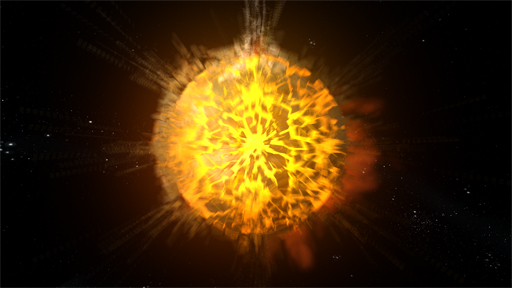 Lead compositor on the introduction movie for Petter Madegårds Cinema del Arte project.
Compositing and 2D lightning of some scenes. Planet explosion, laser shots and smoke particles
---
Ond magi - New music video
4 nov -10, 17.22
Artist : Ond magi
Song : Tidløs knold
Band website:
myspace.com/ondmagi
I'm happy to say that I'm the director, production designer & After effects editor.
The idea came about in collaboration with good old Mads G, who's also the bearded star in the blue dress.
Proud director notice: Filmed with our classic low tech solution green screen setup and edited entirely in After effects. Textures made from photos and edited in Photoshop. The entire model of the appartment is built and animated in AE. It took me approximately 1,5 month to make it.
---
Analogik,
Live at Vega, Copenhagen
4 nov - 10, 17.07
My friend Niels at Jenka music asked me if I wanted to film a couple of songs to put on Youtube to promote the upcomming release of the new Analogik album.
So... I asked my friend Micke to tag along and we filmed a couple of songs with one DV Camera and a cheap HD and still got a chance to enjoy a magnificent concert :)
Back home I edited two songs (Saltefanden & Farligt Monster) in FCP and mixed the sound in Logic in under 12 hours. Fun, fun, fun, with good friends...
Analogik webpage
---
Hello!earth - Dance! You can't stop the revolution.
2 nov -10, 10.50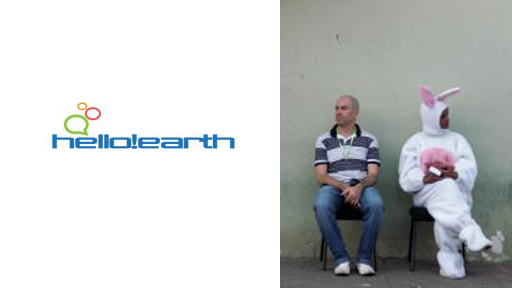 Got a fun gig in Spain and boards the plane on november 7th :)
Going for three weeks to Barcelona to make a documentary about the project 'Dance! - You can't stop the revolution' by the danish theatre group Hello!earth.
Hello!earth
website
Read more about the project at:
Mercat de les flors
---
Dyret
24 sep -10, 13.10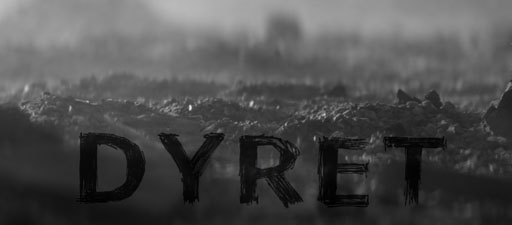 A couple of weeks ago I've finished with the special effects for 'Dyret' (the new title for
'the Beast'
. It's danish for 'The Animal')
27 fx shots in four weeks. Many different things have been done. I've used After Effects for compositing. There's been wireremoval, mattepainting and sky replacement and set extensions and a lot of rotoscoping.
We shot the movie on RED Camera @ 3K so I've learned alot about that workflow and it's been hillariously fun :)
Hopefully we can get the film to Cannes next year, so you have to wait patiently for the premiere...
---
The Eyes of Pharao
23 sep -10, 16.43
This is a Scene from the movie 'The Rite of Saturn, as done by Club de la Faye'. Shot in green screen and the tomb-setting is buildt and animated in After effects. Textures edited in Photoshop.
---
The Rite of Saturn
23 sep -10, 16.07
I've just finished working on 'The Rite of Saturn, as done by Club de la Faye'. It's been a collaboration mainly with my very good friend Peter Tommila who's been the director.
My work on this movie has been filming, editing and special effects. Music by Cosmasia Kraft.
Teaser ------------->
Watch the full movie at:
Vimeo
---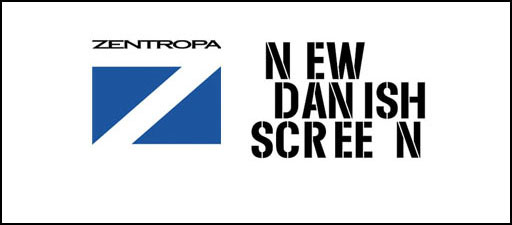 The Beast - Financed
22 jan -10, 00.32
We got the entire budget financed by Jacob Høgel from New Danish Screen, 975 000 DKK.
Pre-production starts in febuari and we plan to shoot in late April.
New Danish Screen website
---
New SHOWREEL
6 dec -09, 15.48
I've just updated my showreel. Did some breakdowns of some compositing and added my latest work. Enjoy!
---
Børnenes brevkasse
(pre-dummy)
1 dec -09, 21.37
First early steps towards a funny childrens program. Our focus was mainly on the form, the visual and technical concept, the music and starting to outline the hosts.
It was a collaboration with Mads Geertsen, Brian Lykke, me and Made in Valby.
My work was post production in After effects where 5 out of the ten days was editing the musicvideo "Onkel Rejes sang" at 4.00. You can watch the finished version of the music video comes under the music videos tab at the top of this page.
I know the quality of the keying is not so good. Unfortunately we had some greenish props in the greenscreen and we also had to work with very limited resources and bad lighting, but I hope you can enjoy it for what it is.
---
The Beast - update
29 aug -09, 13.51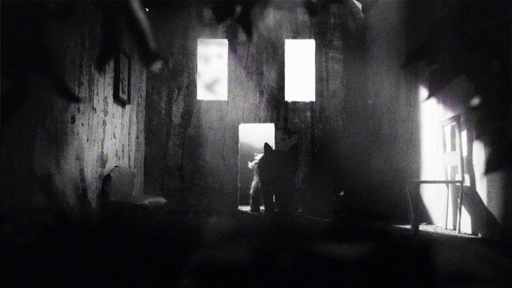 Har precis blivit färdig med min del av utvecklingsfasen av filmen. Är personligen väldigt nöjd med resultatet och hoppas att resten av ansökningen går bra så vi får finansieringen av hela filmen under hösten...
Inspelningarna gick bra och katten var förvånansvärt enkel att jobba med. Producenten
Jonas Bagger
hade styrt upp inspelningar ute i en av filmbyns studior. Fotograf var
Sophie Winqvist
. Vi filmade med Canon EOS 5D MKII vilket har fungerat helt ok. Den skjuter i full HD och ger fantastiska möjligheter att, för en billig penning, filma med riktigt bra objektiv. Men dess H.264 Codec saknar ett helt tillfredställande färgdjup.
Postproduktionen har varit spännande. Först arbetade jag och Malene tillsammans med ett fåtal nyckelbilder i filmen, för att finna fram till en visualitet som hon önskade. Sedan har varje bild i filmen bearbetats av mig i After Effects.
Arbetet har bestått av väldigt många olika saker inom CGI och compositing. Som att lägga till element som rök, partiklar och bakgrunder. lyfta fram detaljer som ögonen på katten, fönster, dörrar och djur i landskapet. keying, colorgrading, tracking, rotoscoping.
---
The Beast
5 juli -09, 22.37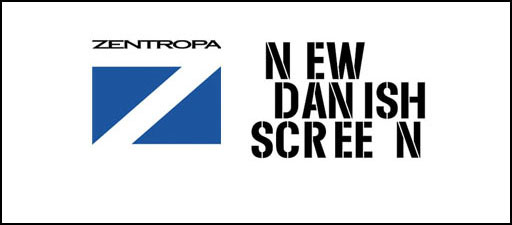 Just started on a new project together with director Malene Choi and Zentropa.
We've got letter of interest from the Danish Film Institute.
Starting development of the short film "the Beast" later this month.
---
Enviroments in After Effects
16 feb -09, 23.44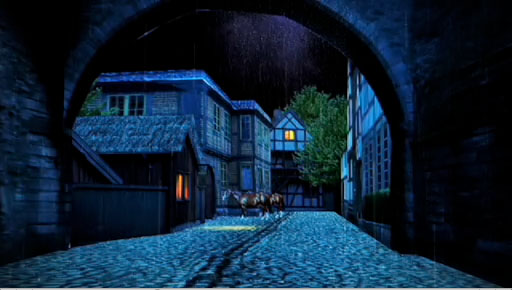 Simple 3D enviroments made in After Effects, from pictures found with google image, free textures and some original that I've designed in photoshop and built in AE. Some objects made with Photoshop Vanishing point.
Sound design in Apple Soundtrack
Visual design test 1 - Carchase
Visual design test 2 - Room
Visual design test 3 - Arena
Visual design test 4 - Village Rain
Visual design test 5 - Village Day
Visual design test 6 - Street Walk
Update 8 dec-09, 09.43
Visual design test 7 - Future City
(NEW)
Update 14 dec-09, 16.15
Visual design test 8 - City backyard
(NEW)
---
Bonjour og Go'Daw premiär 9 januari 2009
17 dec -08, 13.24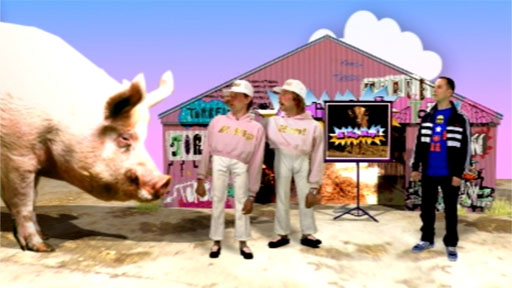 Nu har vi ÄNTLIGEN fått premiärdatum på vårt fantastiska satir program på DR2. Fredagen den 9 januari 2009 kommer min nakna lekamen att sändas ut i den danska etern. Mina svenska vänner får nöja sig med att skratta via webben.
Förväntansfull och nervös.
---
Bonjour og Go'Daw launch
1 dec -08, 21.32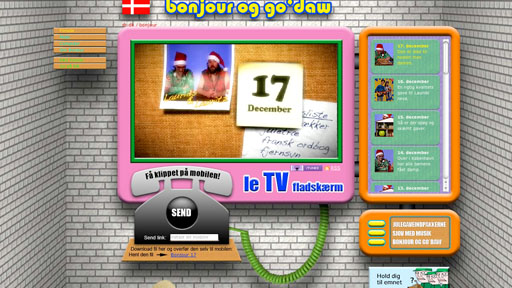 Så er websitet uppe med julvideo, ringtoner julkalender och en hel massa "sjov og ballade". Podcast varje dag i december och annat i kalendern innan programmet startar i februari...
Bonjour og Go'Daw på DR web
---
Bonjour og Go'daw update!
11 sep -08, 23.12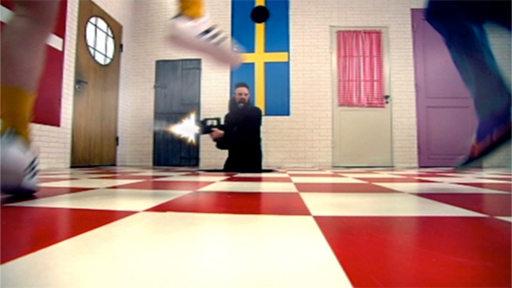 Sista arbetsdagen i morgon. Programmet kommer att sändas först under våren 2009. Tiden går allt för snabbt. Det har gått ca. fem månader sedan vi startade projektet och nu glädjer jag mig till att få publikens respons...
Bild: Cronhammars krig - kulturkriget har startat!
---
Bonjour og Go'daw!
17 mar -08, 00.51

Förbered er på nyskapande humor på DR2 till hösten. Vi börjar filma i mitten av april :-)
---
Flemmings helte (rond 2)
29 aug -07, 03.29
24 september startar säsong #2 av flemmings helte. denna gång är det Je m'appelle Mads och "LeQuiz Team" som radar upp 6 förslag på frågesportsprogram som borde gjorts för länge sen...
---
DR satire
29 jan -07, 09.51
håller på att klippa musikvideos till ett nytt satir program på Danmarks Radio. Programmet börjar sändas i mitten av februari.
den 13 -07 på DR1 klockan 16 och 12 veckor framåt
. De vänner som inte kan se kanalen för samma vara och mer genom att checka nätet....
Je m'appelle Mads på YouTube
---